THE VIETNAM CENTER AND ARCHIVE
Texas Tech University
Preserving the Past for a Better Future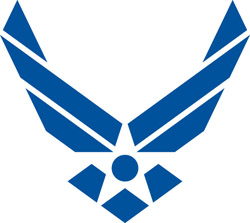 Happy Birthday
United States Air Force!!
On September 18, 1947 the US Air Force was officially created, and today the Air Force turns 65. The Vietnam Center & Archive would like to wish the Air Force a very Happy Birthday, and to thank all the service men and women past and present for their service and sacrifice.
In honor of the Air Force's 65th birthday, please enjoy a few Air Force items from the Vietnam Archive's collections.
Oral Histories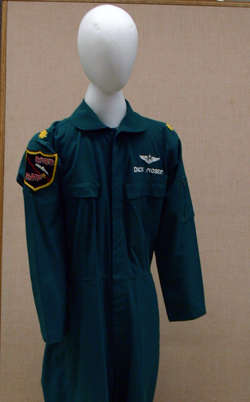 Dress flight suit worn by Dick Moser while he served in the United States Air Force where he flew 80 missions over Hanoi and Haiphong.
(Richard E. Moser Collection [1445museum2128])
OH0150 - Frank Stone, III
(USAF) Frank Stone served with the United States Air Force in Vietnam from October 1968 until October 1969. He served as an O-2 pilot and Night Forward Air Controller with the 19th and 20th TASS at Bien Hoa Air Base in South Vietnam. He helped direct fire from Spooky, Shadow, and Spectre gunships in III CTZ.
OH0506 - Ralph C. Erchinger
(USAF) - Ralph Erchinger, who was born in Hammond, IN, in 1930 and grew up in Calumet, IN, served in the U.S. Air Force from 1953 until 1982 and retired a Colonel. COL Erchinger was trained in and flew multiple aircraft throughout his career including the T-34, T-28, SA-16 (later the HU-16), C-47, CV-2 (Caribou), and C-130. In 1956 and 1957, at Vance AB in Enid, OK, he was part of the last class to train in the B-25. COL Erchinger first served in Southeast Asia between 1957 and 1960 as part of the 31st Air Rescue Squadron based out of Clark AB in the Philippines and then again in 1966 and 1967 as part of the 61st Aviation Company, 536th Tactical Airlift Squadron, in Vung Tau, South Vietnam. There he was a Caribou Pilot, Flight Commander, and served as Chief of Training. COL Erchinger retired from the Air Force on April 23, 1982.
OH0256 - Stephen Katz
(USAF) Stephen E. Katz, originally from New York, New York served in the U.S. Air Force from 1956 until 1986. He served at a variety of locations during his career including Harlingen AFB (TX), Schilling AFB (KS), Seward AFB (TN), Clark AFB, (the Philippines), Norton AFB (CA), and George AFB (CA). Steve went to Vietnam in May 1970 as a C130 Navigator in the 39th Air Rescue Squadron at Tuy Hoa, where he also served as Squadron Administrative Officer, and at Cam Ranh, where he served as Executive Officer. He left Vietnam in January 1972. Steve also flew numerous supply missions into South Vietnam and around the country both before and after his tour of duty in country. Interview conducted by Richard B. Verrone, Ph.D.
Moving Images
1705VI2075 - Aerial Fire Power Training Film
Aerial Fire Power Training Film (SFP-552) Used at times as a visual aide for various Air Defense Topics at the Air Defense Center, Fort Bliss from 1961-1964. Storage can notations: "This film was used at times as a visual aide for various Air Defense Topics at the Air Defense Center, Fort Bliss, circa 1961-1964." "2 March; Ft. Bliss; Aerial Fire Power; 424; 16.mm; 600" Aircraft seen on this film include: F-100 Super Sabre; B-66 Destroyer; F-101 Voodoo; F-102 Delta Dagger; B-52 Stratofortress; B-57 Canberra; F-104 Starfighter; KB-29; KC-97 Stratotanker; KC-135. Several types of aerial ordnance are also shown. [Dr. I. Thomas Sheppard Collection]
Artifacts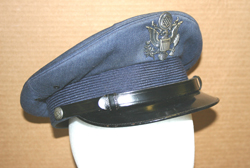 Blue visor cap with Air Force insignia.
(Frederick Joseph Wozniak Collection [1313museum1099])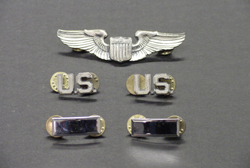 Air Force dress uniform insignia including wings, one pair of U.S. pins and one pair of Lieutenant's bar insignia.
(Frederick Joseph Wozniak Collection [1313museum1103])
Images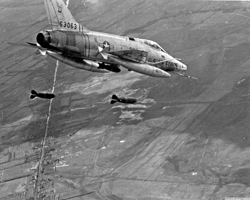 BOMBS AWAY: A U.S. Air Force F-100 'Supersabre' is pictured here as it drops two 500 pound general purpose bombs against a Viet Cong target in the lower Mekong Delta of South Vietnam. This aircraft was one of a formation of four fighter bombers making this attack during air activity in late December 1965. Targets for U.S. Air Force strikes in South Vietnam are identified by Vietnamese authorities and marked by forward air controllers prior to the actual strike.
(George H. Kelling Collection VA061435[])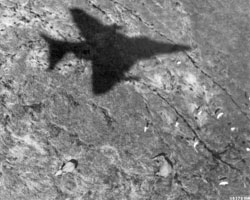 SUPERSONIC INTRUDER: The shadow of a U.S. Air Force RF-4C Phantom photo reconnaissance aircraft streaks across a Vietnamese elephant grazing area during a recent daylight mission. Startled elephants and water birds react to the low-flying double-sonic photo aircraft. Air Force Phantom pilots fly daily reconnaissance missions over North and South Vietnam gathering intelligence for air strikes.
(George H. Kelling Collection [VA061461])