THE VIETNAM CENTER AND ARCHIVE
Texas Tech University
Preserving the Past for a Better Future
Happy Birthday
United States Army!!
On June 14, 1775 the Continental Congress officially created the United States Army, which is now one of the best equipped and technologically advanced military bodies in the world. The Vietnam Center and Archive would like to wish the Army a very happy birthday! Please enjoy some Army items from our collection as we commemorate their 235th birthday.
Oral Histories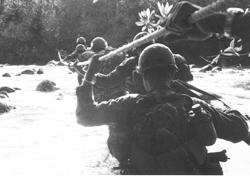 Just like the Golden Gate: ; Well, not exactly, but this bridge serves a similar purpose by helping these Famous Fighting Fourth Division soldiers ford a river in the Central Highlands. After all, Vietnam isn't exactly California anyway!
(Douglas Pike Photograph Collection [va002320])
OH0444 - I Thomas Sheppard
(USA) Tom Sheppard was born in 1930 in Orange NJ and attended the New York State Maritime Academy for two years. He was drafted into the US Army in 1951, completing Basic and AIT training at Fort Dix NJ. He completed Artillery OCS in 1952 and was commissioned as a Regular Army second lieutenant. Tom attended AFFE Intelligence School in Japan, and served with the the 24th Division Artillery in Korea. He was posted as an aide-de-camp to BG Edwin L. Johnson in 1954. Later assignments included battery commander, battalion Asst. S3, and Assistant G3 posts with the XVIII Airborne Corps at Ft Bragg NC, completion of the army's first Surface-to-Surface Missile Battery Officers' Course at Ft Sill OK, and commands with anti-aircraft artillery units in the Panama Canal Zone. In 1960 Tom attended the Artillery Officers' Advanced Course at Ft Sill OK, and then became an instructor at the USA Air Defense School. In 1964 he transferred from the Artillery to the Army's new Intelligence Branch, and spent a student year at the Defense Intelligence College. From 1965 to 1966 he served at MACV in Saigon as Chief of Briefings and Reports and Command Briefing Officer on the J-2 staff under GEN Westmoreland. Later he was assigned to the joint and combined intelligence staff of CINCLANT at Norfolk VA, and later to the JCS Strategic Target Planning Staff at Offutt AFB NE. Tom earned Bronze Star Medals in both the Korean and Vietnam wars as well as the Meritorious Service Medal in his last assignment. Tom took early retirement as a Lieutenant Colonel in 1972, became an organizational behavior expert, earning a doctorate at the University of Texas-Arlington, and was a tenured member of the business school faculty at the University of Texas-El Paso.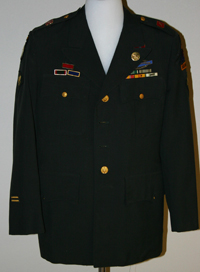 U.S. Army uniform jacket with insignia for 1st Armored Division on left shoulder, and 101st Airborne Division on right shoulder. Over the left pocket are the following ribbons: Vietnam Service, Republic of Vietnam Campaign Medal (with 1969-1970 campaign bar), Army Commendation (2) National Defense and a Bronze Star medal with oak leaf and "V" device. Over the right pocket are ribbons representing the Presidential Unit Citation, Republic of Vietnam Unit Citation (Civil Action) and Army Meritorious Unit Citation.
(Floyd Alexander Collection [1463museum1431])
OH0255 - Antonie Roy
(USA) Antoine E. Roy, originally from Gardner, Massachusetts served in the U.S. Army from 1966 until 1969 and served three tours in Vietnam between 1967 and 1969. Andy first went to Vietnam in April 1967 as a member of C Company, 4th Battalion, 503rd Parachute Infantry, 173rd Airborne Brigade. In June 1968, he joined C Co. in the 227th Assault Helicopter Battalion, 1st Cavalry Division and served as a helicopter door gunner. In his third tour, which began in January 1969, he served with D Co., 1st Battalion, 327th Parachute Infantry Regiment, 101st Airborne, Air cavalry Division. Andy participated in numerous campaigns at Dak To, Tuy Hoa, in the A Shau Valley, in the 1968 Tet Offensive, operations around the Laotian and Cambodian borders, and in SOG support in Laos before leaving Vietnam in July 1969. This interview is ongoing. Interview conducted by Richard B. Verrone, Ph.D.
OH0411 - Ann B. Smith
(USA) Ann B. Smith was born in Valdosta GA in 1930, and earned a BS in English from Valdosta State University in 1951. She entered the Women's Army Corps in 1951. Ann held posts at Ft McClellan AL; Roanoke VA; Ft Sheridan IL; Ft Riley KS; Bremerhaven, W Germany; Ft McPherson GA; Washington DC; and Ft Leavenworth KS. In 1970 she spent a year as Senior Advisor to the Vietnamese Women's Armed Forces, based at MACV in Saigon. Ann became Secretary of the US Army Missile and Munitions School in AL and the first female instructor since World War II at the Command and General Staff College in KS. Ann's later postings included Commander of the WAC Headquarters at Ft McClellan AL, and Director of the US Army's Casualty and Memorial Affairs Department, 1978-81. She retired as a Colonel, and remained active as Secretary of the US Army Women's Museum Foundation.
OH0313 - James Wheeler, Jr.
(USA) James P. Wheeler, Jr., originally from Nashville, Tennessee served in the U.S. Army from 1963 until 1984. Jim served two tours in South Vietnam. He first went to the RVN in March 1967 and served until March 1968 with the 2nd Battalion, 8th Infantry, 4th Infantry Division as a platoon leader. Jim went back to the RVN in July 1969 and served six months with 3rd Brigade, 4th ID and six months as XO of Alpha Company, 1st Battalion, 14th Infantry, 4th ID. He retired a Colonel from the U.S. Army in 1984. Interview conducted by Richard B. Verrone, Ph.D.
Moving Images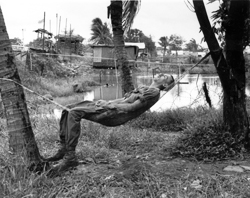 3 August 1969. Box Bridge, approx. 11 km NE of Saigon. After pulling all night guard duty, a member of Hq Sec., "B" Troop, 1/17th Cav., 82nd Abn. Div. sleeps. Note bridge and sandbagged positions in background. South Vietnamese soldier guard the bridge during the day. This photograph is part of a series I shot with my own camera while shooting an "official" assignment on the use of "barbed tape" in the field. Photo by SP5 Bryan K. Grigsby (DASPO)
(Bryan Grigsby Collection [VA030557])
987vi0648 - Michael Sheets Collection
Indiana Guard Company on Patrol in South Vietnam (Official Department of Defense motion picture film by the U. S. Army under the direction of the MACV Office of Information. Photography by SP6 Foulke, SP5 Morgan and SP5 Watson: Sound by SP5 Nash and SP5 Watson.) Camp Lindsey-Lattin, Bien Hoa, South Vietnam, is now the home of D Company, recently activated from the 151st Regiment of Indiana's National Guard. Just last week (Feb. 15), the Guardsmen finished their training with the help of the "old hands" from the 51st Infantry Airborne Regiment, and are taking over their mission as a Long Range Reconnaissance Patrol Company. Unlike regular Infantry units the Long Range Recon Patrol Companies are composed of seven six man patrols with four line platoons rather than three. Their business is both reconnaissance and harassment. They rely on heavy aviation support. Inserted into areas by helicopter, they sometimes remain for a week or longer. Wearing soft jungle hats, camouflage fatigues and grease paint, they depend on natural cover and concealment and their ability to move silently. Each man carries between 65 and 85 pounds of equipment, including radios, maps and compasses. They give reports of enemy activity and direct supporting fire for artillery and aircraft. When their mission is complete, the patrol signals its position with a colored smoke grenade and the helicopters move in quickly to pick them up. 1:58 min/sec
OH0509 - Pleiku-Ia Drang Veterans Collection
General Hal Moore is best known for his command of the 1st Battalion 7th Cavalry during the 1965 Battle of Ia Drang, the first major battle in the Vietnam War, which was depicted in the book and movie We Were Soldiers Once and Young. During the battle Moore managed to fight his way out of an almost impossible situation, outnumbered and nearly surrounded by the enemy. Despite these odds Moore and his troops survived the brutal battle at LZ X-Ray; in this video oral history, Moore recounts his actions in the battle. 2:20:24 min/sec
Artifacts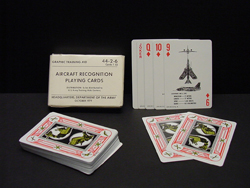 Aircraft Recognition Playing Cards. United States Army issue, October 1979
(David Willson Collection [1283museum1162])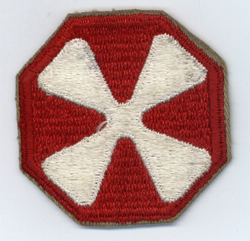 8th Army patch
(Ralph Reinhart Collection [1618museum1903])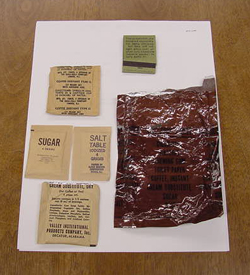 C-ration packet containing sugar, salt, instant coffee, creamer, and a book of matches
(Bryan Grigsby Collection [1048museum0761])
More Images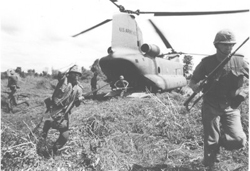 Members of "C" Battery, 2nd Bn, 19th Airborne Artillery, 1st Air Cavalry Division on a tactical operation with The Airborne Brigade southwest of Pleiku Special Forces Camp the first part of November 1965.
(Douglas Pike Photograph Collection [va002742])