THE VIETNAM CENTER AND ARCHIVE
Texas Tech University
Preserving the Past for a Better Future

The Massacre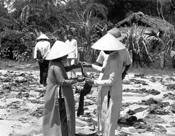 Hue "Death March" Victims Found at New Atrocity Site...
(Douglas Pike Photograph Collection [va002284])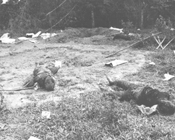 Two exhumed bodies of Tet Offensive victims with hands bound.
(Douglas Pike Photograph Collection [va003094])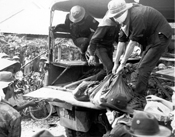 Hue -- Volunteer Civil Defense workers unload some of the 136 bodies of VC hostages recently found along the sandy beaches south of Hue. The hostages victims were captured during the 1968 Tet Offensive. Survivors reported that they were marched south of Hue toward DaNang, shot and dumped into shallow mars graves.
(Douglas Pike Photograph Collection [va006895])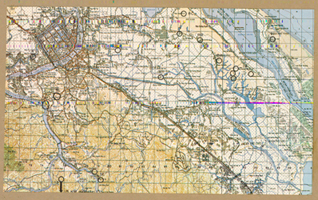 Hue Massacre Major Body Finds
(Vietnam Archive Map Collection [MAP12090311])
Hue's inhabitants had suffered through the incredible ordeal of the raging month-long battle for control of their city, but while the fighting took place so, too, did an even more horrific event. Coming to light in the aftermath of the battle for Hue was the discovery of mass graves holding the remains of thousands of Vietnamese civilians. When communist forces entered the Imperial City, they brought with them lists of individuals whom they identified as threats to the communists' interests in Hue. The lists included political leaders, intellectuals, teachers, religious leaders, foreigners, and many other individuals whom the communists marked for death.
As the VC moved through the city early in the Tet Offensive, they identified and rounded up these individuals and brought them to temporary detainment facilities. After being interrogated by communist authorities, these detainees were then transported to various places within and outside of Hue and were then shot to death or buried alive. Dozens of mass graves were discovered following the battle, revealing that at least 3,000 Vietnamese were killed in this manner, and at least another 2,000 remained unaccounted for. Families of those killed flocked to the graves to exhume the bodies and to find loved ones who were victims of this tragedy. Hue was a city in mourning.
Texas Tech University Vietnam Center Sixth Triennial Symposium: Session 8A - The Hue Massacre of 1968 - March 14, 2008 (89:05 min/sec)
Session 8A The Hue Massacre of 1968 Moderator: James Reckner, PhD, Professor of History, Texas Tech University "The 1968 Massacre at Hue: In Commemoration of the Mau Than Victims on the 40th Anniversary 1968-2008" Nguyen Ly Tuong, Independent Researcher "The Mau Than Massacre: An Intentionally Forgotten Event of the Vietnam War" Michael Peavey Do, Captain, Republic of Vietnam Air Force, Independent Researcher Mr. Trinh Quoc Thien, Independent Researcher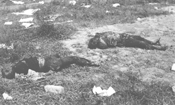 Two of the more than 70 bodies exhumed after being buried three weeks in shallow graves in a schoolyard in Hue show hands bound as they were when the victims were assassinated by attacking Communist forces. The executions took place February 8 during the TET lunar new year offensive. Most of the bodies were identified as those of Hue's leading citizens and officials and their families. The victims were believed to have been forced to dig their own graves before being tied and shot.
(Douglas Pike Collection: Other Manuscripts - American Friends of Vietnam [va005611])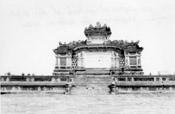 The Old Imperial Palace of the Vietnamese Emperors at Hue City
(Tommy Carver Collection [va053436])