THE VIETNAM CENTER AND ARCHIVE
Texas Tech University
Preserving the Past for a Better Future

Attacks Everywhere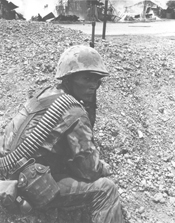 ARVN Forces Inflict Heavy Casualties on NVA Invaders - Gia Dinh...
(Douglas Pike Photograph Collection [va000400])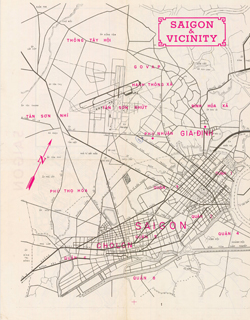 Saigon and Vicinity (November 1964)
(Vietnam Archive Map Collection [MAP12090101])
On 31 January the NVA/VC entered Saigon and attacked several facilities. They took the National Broadcasting Station with the intent of using it to broadcast a message to the Saigon citizens, urging them to join in the uprising and throw out the South Vietnamese government and American troops. Before the defenders left the station to the VC, however, they cut the communication lines to the city making the broadcasting equipment useless. Eventually the 1st ARVN Airborne Battalion retook the station.
To maintain secrecy, the NVA/VC troops brought only small, easily-concealed weapons into the city. They targeted the South Vietnamese Armored Command Headquarters and Co Loa Artillery Camp with the intent of using the tanks and big guns in their future battles. When they arrived, they found the tanks gone and artillery inoperable. The troops at Independence Palace and the South Vietnamese Navy Headquarters quickly repelled their attackers and held their ground with little trouble. During the night many of the carefully-planned attacks went awry, which ultimately doomed the entire Saigon campaign, but some battles that night were fierce and bloody.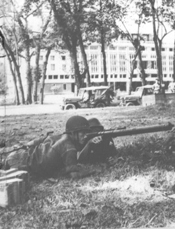 Vietnamese soldiers at Independence Palace (Presidential Palace) on January 31, 1968 during attacks by the Viet Cong on the capital city.
(Douglas Pike Photograph Collection [va000530])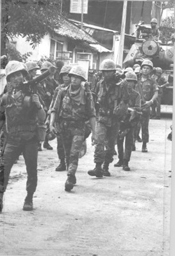 Vietnamese Marines fight communist infiltrators in Gia Dinh...
(Douglas Pike Photograph Collection [va000585])