THE VIETNAM CENTER AND ARCHIVE
Texas Tech University
Preserving the Past for a Better Future

Mini-Tet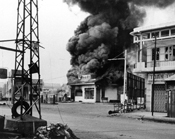 6 May 1968 - Photo by SP4 Bryan Grigsby (DASPO) - Burning Shell Station on Plantation Rd in Gia Dinh, a suburb of Saigon....
(Bryan Grigsby Collection (Department of the Army Special Photographic Office (DASPO)) [va029980])
Throughout the spring and summer, several more waves of attacks occurred, generally called Mini-Tet. The communists mostly attacked the outlying districts of Saigon, such as Cholon and Gia Dinh as well as mortaring Tan Son Nhut and the city intent on causing as much damage and confusion as possible. They built bunkers and trenches, which the Air Force had to knock out with air strikes. The ARVN Rangers and American 9th Infantry followed behind fighting house to house to drive the enemy out. The Mini-Tet attacks occurred on 18-19 February, 5-12 May, and 25 May -18 June 1968. The battles were bitter and caused much damage, with May 1968 being the bloodiest month, in terms of American casualties, of the entire war. Eventually the communists were driven from the city and Saigon was secure once more.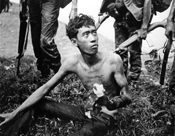 6 May 1968 - Photo by SP4 Bryan Grigsby (DASPO) - Captured enemy soldier surrounded by members of ARVN Airborne near the French National Cemetery where a firefight had taken place...
(Bryan Grigsby Collection (Department of the Army Special Photographic Office (DASPO)) [va029983])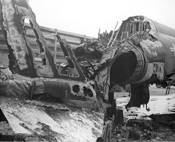 AVSO-1258-22/AGA68 RVN Son Nhut A damaged 4-104 Phantom jet hit by a 122MM rocket during the rocket and mortar barrage on Tan Son Nhut Air Base 18 Feb 1968 Photo by: SP4 Allan R. Dewitt Pictorial A-V Plt. 69th Sig. Bn. (A)
(Donald Jellema Collection (Department of the Army Special Photographic Office (DASPO)) [va030831])