THE VIETNAM CENTER AND ARCHIVE
Texas Tech University
Preserving the Past for a Better Future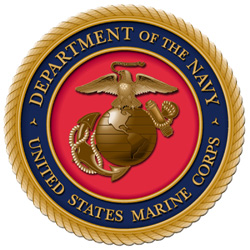 Happy Birthday
United States Marine Corps!!
On November 10th, 1775 the US Continental Congress created the Continental Marines to fight in the American Revolution and today the Marines celebrate their 234th birthday. Congratulations!
The Vietnam Archive wishes to honor all Marines on their special day today. Here are a few Marine related items from our collection. Semper Fidelis.
Oral Histories

Marine Attack Squadron 311, Marine Air Group 12, Chub Lai, I Corps, Vietnam From left: Lt. Col. ?, Capt. Lathrop, Capt. McGraw, Maj. Pridgen, Maj. Wardlaw, Capt. Lent, Cwd Lathroy, Maj. ?, Lt. Col. McCrary, Lt. Col. Overturf, Maj. McGeehan, Maj. Messerschmidt, Capt. Pritchard, Capt. Sanlin, Capt. ?, Cwd. ?, Cwd. ?, Maj. Carr, Maj. Lewis, Cwd. Drath. Not pictured: Maj. Herber, Capt. Barger, ...
(Robert Lathrop Collection [va025918])
OH0268 - Brigadier General John C. Arick
John C. Arick, originally from Washington, D.C., served in the U.S. Marine Corps from 1962 until 1992 and retired a Brigadier General. He is a 1962 graduate of the U.S. Naval Academy at Annapolis. John served two tours in Southeast Asia. During the first, from 1966 to 1967, he was stationed at the Ky Ha helicopter base north of Chu Lai with the Marine Observation Squadron (VMO) 6, Marine Air Group (MAG) 36, 1st Marine Air Wing (MAW) and was a UH-1E pilot flying fire support, escort, MedEvac, utility, and tactical air control missions. He took part in Operations HASTINGS, BEAVER CAGE, among others. During his second tour, from 1970 to 1971, John was first stationed near Marble Mountain Air Facility with the III Marine Amphibious Force (MAF) headquarters in the G-3 section, then with the 1st MAW at Danang in the G-3 section, and finally with the Marine Light/Attack Helicopter Squadron (HML) 367 at Marble Mountain Air Facility. During his entire second tour, he flew the AH-1G Cobra with HML 367. In total, John flew in excess of 1,540 hours in Southeast Asia.
OH0333 - John Thomas "Tom" Esslinger
John Thomas "Tom" Esslinger, originally from Ephrata, Pennsylvania served in the U.S. Marine Corps from 1966 until 1970. Tom went to Vietnam in September 1967 and served with India Company and Mike Company, 3rd Battalion, 26th Marines, and operated out of Camp Evans. In December 1967, his unit was sent to Khe Sanh where it eventually occupied Hill 881 South during the 77-day siege. After Khe Sanh, from April to July 1968, Tom, as CO of India Co., operated out of Quang Tri City and then west of Da Nang running various missions. In early August, he was made Assistant S-3 with the 3/26 Marines and served in that capacity until completing his 13-month tour in October 1968.
Corporal Walter Rupp recounts his experiences in Vietnam, including being wounded in a helicopter crash and by Viet Cong fire. Rupp received two Purple Hearts and the Bronze Star.
Moving Images
Pair of shorts with the following inscription: 1st Marine Division Vietnam
(James Padgett Collection [174museum0225])
1585VI2205 - R.J. Del Vecchio Collection
Film shot by R. J. Del Vecchio during his service as a Marine cameraman in Vietnam documents his own service and various aspects of the broader context of the war. Footage includes: Marine patrols, soldiers shaving and cleaning weapons, travel with sentry dogs, airlifted supplies.
Artifacts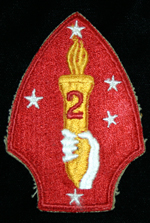 2nd Marine Division patch
(Richard (Dick) Detra Collection [069museum3270])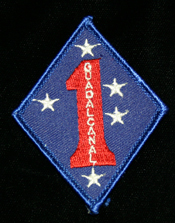 1st Marine Division, Guadalcanal patch
(Richard (Dick) Detra Collection [069museum3269])
More Images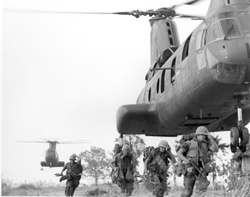 First wave-- Leatherneck helicopter of Marine Medium helicopter of Marine Medium Helicopter Squadron 164 and infantryman of the 2nd Battalion, 5th Marine Regiment, are the first elements into the zone, November 20 during Operation Mead River, about eight miles southwest of Danang. More than 75 helicopters of the 1st Marine Aircraft Wing lifted some 3,500 leathernecks into pre-designed zones ...
(Brigadier General Edwin H. Simmons Collection [va020938])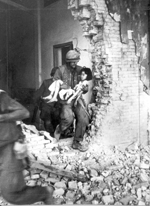 A US Marine carries a seriously wounded Vietnamese child from the ruins of a home in Hue. The provincial capital city was the target of violent VC attacks following the start of the Tet (Lunar new year)
(Douglas Pike Photograph Collection [va006852])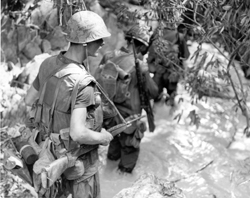 Operation Prairie III-- Marines of "A" Company, 1st Battalion, Ninth Marines, move through a stream in search of North Vietnamese soldiers during Operation Prairie III approximately three miles west of Cam Lo.
(Brigadier General Edwin H. Simmons Collection [va020944])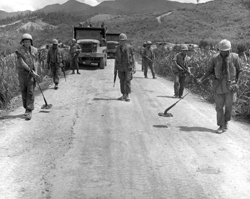 Mine Sweep-- A Marine mine sweep team of "A" Company, 3rd Engineer Battalion, checks a road west of Ca Lu for enemy Mines or dud rounds. This sweep, like many others in the Northern I Corps, is conducted each morning before traffic is permitted to use the road.
(Brigadier General Edwin H. Simmons Collection [va020850])