THE VIETNAM CENTER AND ARCHIVE
Texas Tech University
Preserving the Past for a Better Future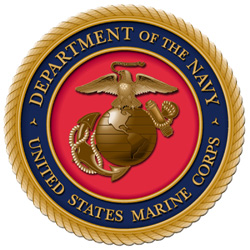 Happy Birthday
United States Marine Corps!!
On November 10th, 1775 the US Continental Congress created the Continental Marines to fight in the American Revolution, and today the Marines celebrate their 236th birthday. Congratulations!
The Vietnam Archive wishes to honor all Marines on their special day today. Here are a few Marine related items from our collection. Semper Fidelis.
Oral Histories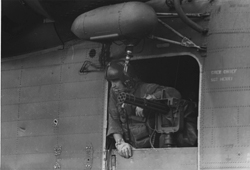 A weary U.S. Marine mans a mini gun in a CH-53 Sea Stallion during ferry operations from Saigon to the USS Hancock.
(Jim Stanitz Collection [VA050190])
OH0439 - John Gary Morris
(USMC) John 'Gary' Morris was born in 1942 in Houston TX, and attended the University of Dallas before graduating from North Texas University in 1965. He enlisted in the Marines and attended both Boot Camp and Officer Basic School at Quantico VA. Gary served at Camp Lejeune NC, Camp Pendleton CA, and Iwakuni, Japan, before arriving in Vietnam in 1967. He served for 13 months as a squad commander in counter-insurgency operations near 'Happy Valley' outside of Danang, and was promoted to the rank of Captain. Returning to the US, Gary served in the USMC Reserves, retiring in 1999 as a Lieutenant Colonel. He remains active with veterans' organizations and as an artist.
OH0335 - Michael Bradbury
(USMC) Michael D. Bradbury, originally from San Francisco, California served in the U.S. Marine Corps from 1966 until 1969 and in the U.S. Air Force from 1971 until 1988. Mike served in South Vietnam in K Company, 3/26 Marines, 3rd Marine Division, from September 1967 until October 1968. He participated in operations around Camp Evans in the Cobi Tanh Tan Valley, in Hue and around Quang Tri City, and was on Hill 861 during the siege at Khe Sanh. Interview conducted by Richard B. Verrone, Ph.D.
USMC Lt. Paul Ek discusses his experiences with the Combined Action Company in the Hue-Phu Bai area in 1965.
Moving Images
1332VI1518 - Darryl (Bud) Skuce Collection
This film was taken in 1967 during Skuce's first trip to Vietnam. He was aboard the USS Paul Revere APA 248. The ship was transporting Marines up the Cua Viet River to Hue. Skuce was in charge of the ships armory and as such was placed on the Boat Group Commander's craft to serve as gun repair for the Mike boats in the operation.
Artifacts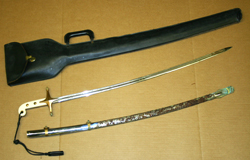 US Marine Corps "Mameluke" sword, scabbard and leather carrying case.
(Charles Anderson Collection [1338museum1170])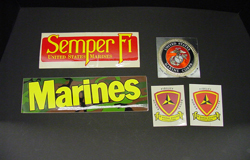 US Marine Corps bumper stickers.
(Charles Anderson Collection [1338museum1231])
More Images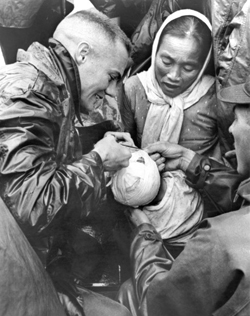 A US Marine doctor removes bandages from a Vietnamese boy brought in by his mother for treatment of a head infection at a base near Da Nang in South Vietnam. The Marines hold a regular twice-weekly medical call for villagers in the area.
(Douglas Pike Photograph Collection [VA004471])
(114) Under Fire-- A Leatherneck of "A" Company, 1st Battalion, First Marines, moves out under intense enemy .50 caliber machine gun fire during heavy street fighting taking place in the old Imperial Capital of Hue.
(Brigadier General Edwin H. Simmons Collection [VA020947])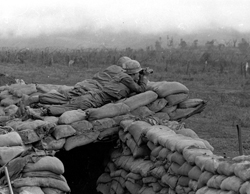 (060) Marines forward observers trying to spot North Vietnamese Army Mortar position from front lines at Khe Sanh.
(Brigadier General Edwin H. Simmons Collection [VA020893])