Tet, The Vietnamese Lunar New Year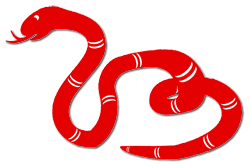 Friday, February 15th, 2013
3:00pm-5:00pm
The Hall of Nations at the International Cultural Center
This is a free event open to the public
Traditional Vietnamese food will be served. A special presentation will be given by the Vietnamese Student Association at Texas Tech. Please join us and learn more about the rich heritage and culture that makes Vietnam so remarkable.
February 10, 2013, ushers in the Lunar Year of the Snake. In Vietnam, one of 12 animals of the zodiac represents each year. In many Asian cultures, including Vietnam, the Year of the Snake is believed to be a year of peace and prosperity. The snake is an important part of life in Vietnam. People born in the Year of the Snake are endowed with wisdom and excel in finding solutions to problems. They are usually successful in life and lucky with money.
The Vietnamese people regard Tet as their most important holiday. Food preparation for Tet is very time consuming and often requires days of cooking and, prior to the celebrations, people clean, paint, and decorate their homes. People avoid cleaning during Tet so that good luck will not be "swept away."
We hope you will be able to join us on February 15, 2013 as we celebrate this special event!
For more information, please call 806-742-9010.
Vietnam Center & Sam Johnson Vietnam Archive