2012 VNCA Asian Pacific American Heritage Month Film Festival
April 9th-10th, 16th-17th, 2012
All films will be shown in the Formby Room of the Southwest Collection/Special Collections Library.
This film festival is co-sponsored by the TTU Libraries. For more information on the festival, please call 806-742-9010.
The Scent of Green Papaya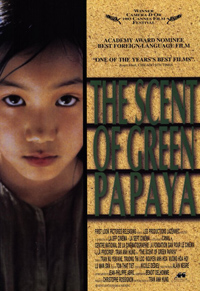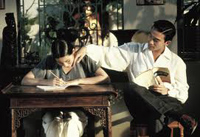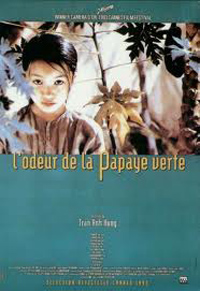 Show Times

:

Mon. April 9th, 7:30pm
Tues. April 17th, 3:30pm

Running time: 104 min. Language: Vietnamese. First Look Pictures Releasing
The Scent of Green Papaya, a 1993 film, is Vietnamese–French Director Tran Anh Hung's first feature film and first collaboration with the renowned Vietnamese Composer Ton That Tiet. The film starts in the early 1950's during the French Colonial Period of Vietnam, following the life of then ten year old Mui as she grows into a beautiful young woman in the 1960's, a period of increased US involvement in Vietnam. The extraordinarily observant Mui sees beauty in the smallest, most minute details. When the father of the household she works for dies, the family falls on hard times. Mui, now a young woman and played by director and writer Tran Anh Hung's wife, Tran Nu Yen Khe, goes to work for a talented classical pianist, a childhood friend of her employer's son. The pianist is handsome, sophisticated, and French Speaking with an expensive and lovely fiancee. The pianist starts teaching Mui to read and write as well as to comport herself as a lady. Mui is quietly and secretly in love with him. The film also stars: Thi Loc Truong, Anh Hoa Nguyen, Hoa Hoi Vuong, Ngoc Trung Tran, Vantha Talisman, Keo Souvannavong, Van Oanh Nguyen, Gerard Neth, Nhat Do, Thi Hai Vo, Thi Thanh Tra Nguyen, Lam Huy Bui, and Xuan Thu Nguyen. Music for the film was composed by Ton That Thiet, who subsequently composed music for the films Cyclo and Vertical Ray of the Sun.
Awards: Winner of the Camera d'Or and the Cesar Award for Best Debut, and was shortlisted for the 1993 Academy Award for Best Foreign Language Film.
Reviews: Roger Ebert
Play Movie Trailer:
Sita Sings the Blues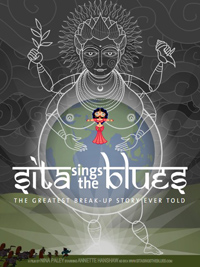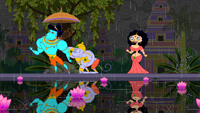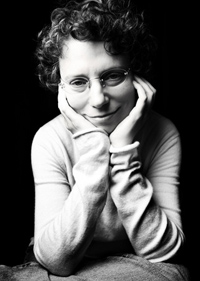 Show Times

:

Mon. April 9th, 3:30pm
Tues. April 17th, 7:30pm

Running time: 82 min.
The 2008 film Sita Sings the Blues, "The Greatest Break-Up Story Ever Told," is the retelling of the ancient Indian Hindu epic legend of Ramayana. The story follows Sita and Prince Rama, whose relationship and marriage declines and eventually ends after Sita is kidnapped by King Ravana, King of what is present day Sri Lanka. The film combines the story of Ramayana with events in the film's Director, Writer, Producer, Designer and Animator, Nina Paley's life in modern day San Francisco, specifically the relationship between Nina and her husband Dave and its subsequent end. Paley uses a wide range and variety of art and graphic styles to tell both Sita's and her own story, including: Ramayana art traditions from Mughal paintings; Indonesian shadow puppets; collage characters; temple sculptures; comic books and cartoons; squiggle vision technique; vector graphic animation; Raj put brush painting style; and water color paintings that Nina drew by hand and scanned and animated. After editing, Paley published the film on the internet. The main character, Sita, tells her story in Blues and Torch Songs sung by 1920's artist Annette Hanshaw, Busby-Berkeleyesque dance numbers, and Indian fusion music. Nina filmed the dancing of Reena Shah, who also provided the speaking voice of Sita, and animated elements of her dance. Additionally, Sita's tale is provided with unscripted narration and commentary by three shadow puppets, given voice by Aseem Chhabra, Bhavana Nagulapally, and Manish Acharya, who provide impromptu delightful comic relief to the seriousness of the tale. The film also stars the voices of Sanjiv Jhaveri, Nina Paley, Deepti Gupta, Debargo Sanyal, Pooja Kumar, and Aladdin Ullah.
Awards: Winner of 29 awards, including: Indian Film Festival of Los Angeles, Annecy Animation Festival, and Gotham Award.
Reviews: Roger Ebert
Thanh's War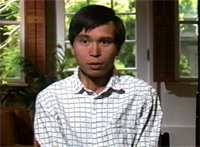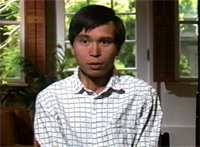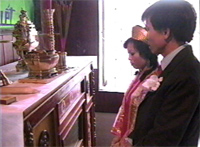 Show Times

:

Tues. April 10th, 3:30pm
Mon. April 16th, 7:30pm

Running time: 58 min.
This 1990 KQED Documentary film records the voice and experiences of Pham Thanh. Thanh was born in 1956 in Bien Phu, near Da Nang, Vietnam, an area of intense conflict between the US and Viet Cong soldiers. In 1964, when Thanh was eight years old, his home was burned down and his family, along with the rest of the village, was relocated to a strategic hamlet. In 1968, at only 12 years of age, Thanh was critically wounded, his throat being torn apart, and his family killed by a U.S. grenade. The American Committee of Responsibility found and placed Thanh in a foster home in the San Francisco Bay Area, and flew him to a hospital in San Francisco for medical treatment. Now a Vietnamese American living in Berkeley, where he makes artificial hearts for a high tech company, Thanh struggles to balance and maintain his Vietnamese cultural heritage and identity with that of his American. Retracing his roots, Thanh goes back to Vietnam and marries a local Vietnamese woman in Bien Phu, which was arranged for him by one of his surviving Aunts. At the time, the US and Vietnam have no formal relations, and as a result his wife must remain in Vietnam.
Awards: American Film Festival Blue Ribbon and the National Educational Film Festival Award.
Reviews: Movie Reviews; LA Times
Indochine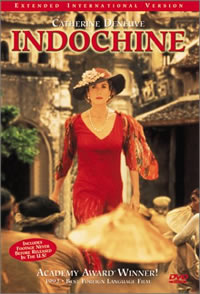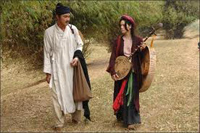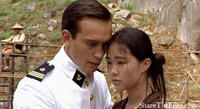 Show Times

:

Tues. April 10th, 7:30pm
Mon. April 16th, 3:30pm

Running time: 157 min. Language: French
Written by Erik Orsenna, Louis Gardel, Catherine Cohen, and Regis Wargnier, this 1992 film set in French Colonial Vietnam during the 1930's follows three main characters as their lives are forever and irrevocably changed by the turmoil of the French Indochina War. Eliane Devries (Catherine Deneuve), is a French wealthy rubber plantation owner born and raised in Indochina (Vietnam). Eliane adopts the orphaned Annam Princess Camille (Linh Dan Pham) as her daughter. Jean-Baptiste Le Guen (Vincent Perez) is a handsome French Naval Officer torn between his duties as a soldier and the inhumane treatment of the Vietnamese people his orders mandate. After the end of his torrid love affair with Eliane, Jean-Baptiste and Camille fall in love. Eliane uses her influence to have Jean-Baptiste transferred to Dragon Island, France's most northern and remote post in Vietnam, to separate him from Camille. Camille runs away and follows Jean-Baptiste to Dragon Island. Jean-Baptiste and Camille's tragic love story, and the fate of their infant son Etienne, becomes legendary and the most popular story portrayed by theatrical troupes across Vietnam. The film also stars Jean Yanne, Dominique Blanc, Henri Marteau, Carlo Brandt, Gerard Lartigau, Hubert Saint-Macary, and Andrzej Seweryn.
Awards: Academy Award Winner 1992 Best Foreign language Film, and Golden Globe Award for Best Foreign Film.
Reviews: New York Times; Washington Post
Warning: Please be advised film contains partial nudity and portrayal of opium use.
Full Film Festival Schedule
Monday
April 9
Tuesday
April 10
Monday
April 16
Tuesday
April 17
3:30pm
Sita Sings the Blues
Thanh's War
Indochine
The Scent of Green Papaya
4:00pm
4:30pm
5:00pm
5:30pm
6:00pm
6:30pm
7:00pm
7:30pm
The Scent of Green Papaya
Indochine
Thanh's War
Sita Sings the Blues
8:00pm
8:30pm
9:00pm
9:30pm
10:00pm
2012 Film Festival Poster
Vietnam Center & Sam Johnson Vietnam Archive