Techsans in the Vietnam War: Profile

Lieutenant William B. Holmes Jr.
04 October 1939
TTU: 1957 - 1962;
Class of '62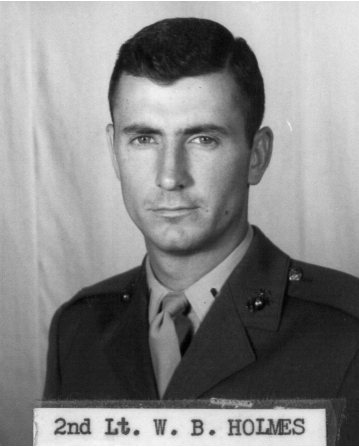 William "Bill" B. Holmes, Jr., was born on October 4, 1939. He grew up in Lubbock, Texas, and graduated from Texas Tech University in 1962 with a BBA in Finance, Banking, and Investments. While at Tech he was a member of the Sigma Alpha Epsilon fraternity, the Air Force ROTC, and played on the freshman golf team. He joined the Marines in 1961, serving in the USMC Active Reserve during his last year at Tech. He went to Vietnam in the spring of 1965 where he was an air controller at Da NangAir Force Base, serving in Marine Support Squadron 2 of the 2nd Marine Air Wing. He left Vietnam in December of 1965, and left the Marines as a first lieutenant, earning the Marine Expeditionary Medal for his service. After the military, he was the Road Manager and Tournament Operations Director for World Championship Tennis in the early 1970s. He then became the first U.S. Tournament Bureau Director for the Association of Tennis Professionals, and then spent a few years as an administrativeassistant for renowned Texas businessman Lamar Hunt. He is married to Glenda Holmes and has a daughter, Christine Lott.
Vietnam Center & Sam Johnson Vietnam Archive