US Air Force Birthday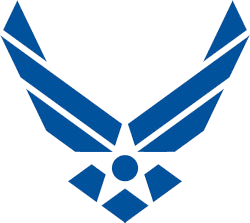 Happy Birthday
United States Air Force!!
On September 18, 1947 the US Air Force was officially created, and today the Air Force turns 65. The Vietnam Center & Archive would like to wish the Air Force a very Happy Birthday, and to thank all the service men and women past and present for their service and sacrifice.
In honor of the Air Force's 62nd birthday, please enjoy a few Air Force items from the Vietnam Archive's collections.
Oral Histories
OH0086 - Congressman Sam Johnson
(USAF) (POW) Congressman Sam Johnson served two tours with the USAF in Vietnam. During his first tour (1965-1966) he served at MACV headquarters in Saigon in the Emergency Action Center. During his second tour (1966-1973) he served in Ubon, Thailand, flying an F-4 on trail interdiction and bombing missions in Laos and North Vietnam. Congressman Johnson was shot down while flying over North Vietnam 1966 and he spent nearly seven years as a Prisoner of War; three of those years were spent in solitary confinement. Congressman Johnson is also author of, "Captive Warriors", which details his POW experience.
OH0364 - James King Overman
(USAF, CIA) James King Overman enlisted in the US Air Force at age 18, and after training as a mechanic he qualified for pilot training. He flew B-26 aircraft on patrols of the 38th Parallel in Korea 1954-55 and spent six years as an instructor in the Training Command at Randolph AFB. During 1965-67 he was assigned to the 817 Troop Carrier Squadron, Naha AB, Okinawa, with TDY postings to Da Nang and Ubon, Thailand. He flew "Blind Bat" missions as a night forward air controller over the DMZ and North Vietnam. During 1970-71, as part of the 16th SOS, he flew nighttime interdiction missions over Laos and South Vietnam in AC-130 gunships, as well as High Altitude Low Opening (HALO) flights and a bombing mission over Cambodia. At his retirement from active duty in 1972 Jim was one of the most highly decorated Native American pilots in US Air Force history. During the 1970s and 1980s Jim flew on a contract basis for the Central Intelligence Agency, including evacuation flights from Phnom Penh, Da Nang, and Saigon in 1975.
Moving Images
987vi0659 - Michael Sheets Collection
Thai Radar Controller 21 May 1969 U. S.-Thailand Radar Control Assures Tight Air Defense Around Udorn. As pilots wait in the ready rooms, the controllers scan their radar scopes when an unidentified aircraft comes along. The USAF 621st Tactical Control Squadron then scramble their supersonic F-102's to meet the air craft. 1:58 min/sec
Artifacts
Images