The Vietnam Center and Sam Johnson Vietnam Archive Celebrates Black History Month

With the desegregation of the American military during the Korean War, military careers became increasingly attractive to the African American community in the early 1960's. The military offered young men and women employment, education, training and for African Americans a chance to achieve one's goals in an environment that was more tolerant than the still segregated civilian arena. As the Vietnam War continued, racial issues in Southeast Asia and the military began to mirror the Civil Rights movement back home; with both groups struggling for equality and respect. Many African American soldiers began questioning the need to fight for the freedom of a country halfway around the world when they were not fully free themselves back home in the United States. By the end of the war both African American and white soldiers were disenchanted with their service in a war that was rapidly losing popularity with the American people. Despite the issues and hurdles faced by African American soldiers, these young men played a key role in Vietnam: serving their country in a time of war. The Vietnam Center and Sam Johnson Vietnam Archive wishes to honor the African American infantryman, medic, pilot, sailor, marine, nurse and soldier for Black History Month.
Spotlight on African Americans in the War
Sergeant Stanley C. Goff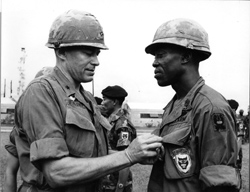 Stanley C. Goff grew up in Tyler, Texas and moved to San Francisco, California in 1966. After deciding that college was not for him, he was drafted into the Army in January of 1968. Goff was part of the 196th Light Infantry Brigade Bravo (B) Company operating in the I Corps Tactical Zone throughout northern Vietnam. After four months in combat, Goff earned the Distinguished Service Cross (DSC) medal for bravery under fire in 1969. Prior to receiving his DSC medal, Goff also served as the brigade bugler for LZ Baldy, also known as Baldy Airfield, near Huong An, Vietnam. Despite experiencing heavy combat in the jungles of Vietnam during his tour of duty, Goff returned to the US unscathed in 1969. Goff later co-wrote Brothers: Black Soldiers in the Nam (LC Call # DS559.5 G63) with Robert Sanders and Clark Smith.
Admiral Samuel L. Gravely, Jr.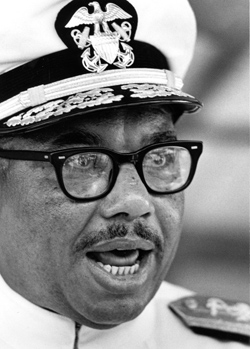 Admiral Samuel L. Gravely, Jr. was born in Richmond, Virginia and was enrolled at Virginia Union University for two years. He enlisted in the Navy Reserves in September of 1942, shortly after he became draft eligible. At this time, the Navy had just begun to accept African Americans for general service, instead of stewards. During his thirty-eight year naval career, Admiral Gravely served tours of duty during World War II, the Korean War and the Vietnam War. He also accomplished a long list of "firsts" for African Americans serving in the US Navy throughout his career. He was the first African American to attain the status of captain, admiral, rear admiral and finally three-star vice admiral, the first to command a major naval warship, the first to command a warship under combat conditions since Robert Smalls during the Civil War and also the first to command a US Navy fleet.
General Daniel "Chappie" James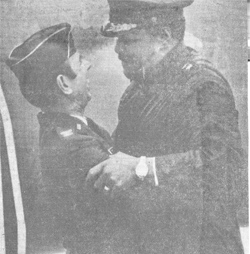 Air Force Col. Frederick Crow and Major General Daniel "Chappie" James (undated)
Retired as a four-star General
General Daniel "Chappie" James was born and raised in Pensacola, Florida. Pensacola was home of an important naval air station, and helped to support James' fascination with airplanes. James opted to join the Civilian Pilot Training Program (CPTP) at Tuskegee Institute located in Tuskegee, Alabama. He greatly impressed one of his instructors and thus became a civilian instructor at the CPTP. James served a tour of duty in Korea for the US Air Force, where he earned several medals. During the Vietnam War, James served as the deputy commander of the 8th Fighter Tactical Wing. During his tour in Vietnam, James' plane was hit fifty-six times by antiaircraft fire, knocking out one engine; and he was also forced to make a landing at an emergency strip in the middle of the jungle. James also saw a "first" during his military career; he became the first African American to achieve the status of four-star general.
Images of African Americans in the War from the Collections of the Vietnam Archive
More Items from the Collection
Vietnam Center & Sam Johnson Vietnam Archive