US Coast Guard Birthday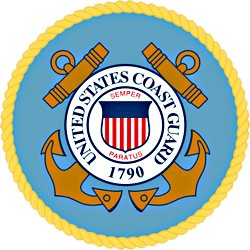 Happy Birthday
United States Coast Guard!!
On August 4, 1790, the U. S. Congress authorized the construction of ten vessels to provide a new military branch for the country, the Revenue Cutter Service. This service enforced tariff and trade laws, prevented smuggling and ensured the collection of federal revenue from ships and marine trade. Over its life time the Revenue Cutter Service took on new duties: protecting the nation's shore line, search and rescue and maintaining all of the country's light houses. In 1915 they changed their name to the U. S. Coast Guard. The Coast Guard not only protects our nation's shores it also serves under the Department of the Navy in all of our armed conflicts. Today the Coast Guard turns 221 and we have gathered a few Coast Guard related items from our collection to commemorate the occasion. To all the men and women of the Coast Guard, thank you for your service and Happy Birthday!
In honor of the Coast Guard's birthday, please enjoy a few Coast Guard items from the Vietnam Archive's collections.
Artifacts
Photographs
Documents
See Previous Exhibits: 2010
Vietnam Center & Sam Johnson Vietnam Archive