US Marine Corps Birthday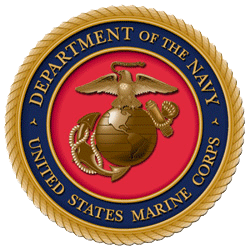 Happy Birthday
United States Marine Corps!!
On November 10th, 1775 the US Continental Congress created the Continental Marines to fight in the American Revolution, and today the Marines celebrate their 235th birthday. Congratulations!
The Vietnam Archive wishes to honor all Marines on their special day today. Here are a few Marine related items from our collection. Semper Fidelis.
Oral Histories
OH0211 - Robert Scott Dawson
(USMC) Scott Dawson served with the U.S. Marine Corps in Vietnam from 1967 to 1969. He served as a rifleman with A Company, 1st Battalion, 1st Marine Regiment in Quang Tri and Hue. Interview conducted by Stephen Maxner.
OH0239 - Michael Sweeney
(USMC) Michael L. Sweeney, originally from Denison, Texas, served in the U.S. Marine Corps from 1960 until 1980. Mike served in Vietnam from 1965 until 1969. From 1965 to1966, and again in 1967 after completing the Amphibious Warfare School at Quantico, Virginia, he was the Commanding Officer, Marine Detachment aboard the USS Hancock. In the spring and summer of 1968, he was CO, K Co., 3d Battalion, 7th Marines. In the summer and fall of 1968, he was Aide to the Commanding General, 1st Marine Division, and in the winter and spring of 1969, he was Operations Officer, 3d Battalion, 5th Marines. Mike took part in a number of operations while in-country, inculding JASPER SQUARE, ALLEN BROOKE, and MEADE RIVER. He retired from the Marine Corps as a Lieutenant Colonel in 1980.
OH0326 - Robert Devereux Slingluff
(USMC) Robert Devereux Slingluff was born in Baltimore MD. His father was World War II POW Captain John K. Slingluff. "Dev" enlisted in the Marines in late 1966, and worked as a medical corpsman at the Naval Hospital in Quantico VA. He arrived in Da Nang in January 1969 and served as a corpsman in the field and at the Battalion Aid Station with the 3/1 First Marine Division in Operation Oklahoma Hills, at Hill 55 and Hill 37, in the Dodge City and Arizona Territory areas, and at the Tu Cao Bridge. In February 1970 Dev was assigned to the Marine dispensary in Washington DC. He later briefly affiliated with Vietnam Veterans Against the War while a student at the University of North Carolina.
Moving Images
1585VI2208 - R. J. Del Vecchio Collection
Film shot by R. J. Del Vecchio during his service as a Marine cameraman in Vietnam documents his own service and various aspects of the broader context of the war. Footage includes shots taken 15 miles Southwest of DaNang, helicopter transport, Marines on patrol, drills, grenade explosions, Marines on Amphibious tank, and chaplain religion service.
Artifacts
Photographs
See Previous Exhibits: 2009