THE VIETNAM CENTER AND ARCHIVE
Texas Tech University
Preserving the Past for a Better Future

The Tet Offensive (Tết Mậu Thân)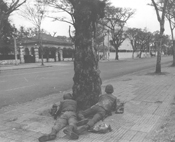 ARVN and U. S. military retake the American Embassy on Thong Nhut Street in Saigon.
(Douglas Pike Photograph Collection [va000968])
During the early morning hours of 31 January 1968, Viet Cong and North Vietnamese forces launched surprise assaults on nearly all of the provincial capitals and urban areas of the Republic of Vietnam in an effort to bring about the collapse of the South Vietnamese government. The attack, which came to be known as the Tet Offensive, became a major turning point in the war, setting the stage for American withdrawal and the eventual downfall of South Vietnam. Militarily, the Tet Offensive was a major defeat for the communists, but politically it became a stunning victory as the American will to fight the war began to wane.
In the months leading up to the Tet Offensive, the Vietnam War had reached a point of stalemate. Main force American units had been fighting in Vietnam for over two and half years, and the insurgency in South Vietnam showed no signs of slowing, despite the fact that American firepower had taken a major toll on the Viet Cong's ranks. Since the fighting in Vietnam began, the communists had been willing to absorb massive numbers of causalities, but clashes with the Americans were beginning to sap the strength of the Viet Cong, and the communist leadership began to fear that continued losses would limit their ability to strike at American and South Vietnamese forces. Thus, in January of 1968, Hanoi elected to cast aside its strategy of protracted warfare and gambled everything on a massive surprise attack on the major urban areas of the Republic of Vietnam. Their strategy, known as General Offensive and Uprising (Cuộc Tổng tiến công và nổi dậy) was to strike American and South Vietnamese military and government installations and trigger a general uprising among the population that would topple the South Vietnamese government and expel the Americans. The planned communist offensive was to take place during the Vietnamese holiday of Tet, the Vietnamese lunar new year. In the previous years of the conflict belligerents on both sides observed a cease fire during the Tet holiday. By taking advantage of the proposed cease fire, the communists hoped to maximize the advantage of surprise by striking during a time of supposed peace.