THE VIETNAM CENTER AND ARCHIVE
Texas Tech University
Preserving the Past for a Better Future

February and March at Khe Sanh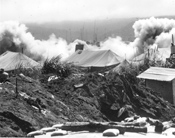 (115) An eruption of smoke and dust obscures part of the beleaguered Marine Combat base at Khe Sanh during a recent North Vietnamese rocket attack.
(Brigadier General Edwin H. Simmons Collection [va020948])
On 23 February, the Khe Sanh base received its biggest shelling barrage of the battle as 1,307 rounds from 130mm and 152mm NVA artillery fell upon it, killing ten Marines and wounding fifty-one others. Further tragedy occurred on 25 February when a patrol from Bravo Company, 1st Battalion, 26th Marines ventured outside the base perimeter and was ambushed by an NVA battalion. Nine Marines were killed, twenty-five wounded, and nineteen more were missing. On 28 February, the Marines launched artillery and air strikes against NVA positions that they suspected were massing to attack positions held by the 37th ARVN Ranger Battalion on the eastern perimeter of the base. The NVA did attempt the anticipated attack, but the Rangers and their artillery and air support repulsed it.
Marine intelligence began to notice NVA withdrawals from the Khe Sanh area in March, but the shelling would rage on as was exemplified by the 1,000 artillery rounds that hit the base on 22 March that once again hit the ammunition dump. On 30 March, Bravo Company, 1st Battalion, 26th Marines advanced into the area where its patrol had been ambushed on 25 February. Bravo Company failed to find the MIAs from the patrol, but they succeeding in killing 115 NVA soldiers in the process. The Marines' losses were harsh, however, as they suffered ten killed, one-hundred wounded, and two missing. Their attack not only marked the end of the month, but also the Marine Corps' operational control over the Khe Sanh area as April brought in Operation PEGASUS and the coming of the 1st Air Cavalry Division.