THE VIETNAM CENTER AND ARCHIVE
Texas Tech University
Preserving the Past for a Better Future

The Defense of Tan Son Nhut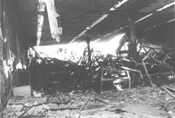 The 1968 Tet offensive dealt a severe blow to Vietnam's textile industry, causing about US$30 million in damage. This storeroom for spare parts was completely demolished at Vinatexco's Gia Dinh plant. It has been rebuilt.
(Douglas Pike Photograph Collection [va000046])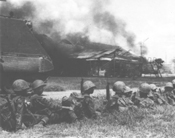 ARVN soldiers take an earned break on the roadside following fierce fighting in the Tan Son Nhut area after securing objective. The engagement began as Viet Cong and North Vietnamese soldiers attacked the capital city during the festive TET holiday period.
(Douglas Pike Photograph Collection [va000402])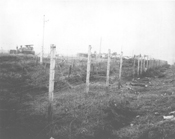 Viet Cong Attack Saigon Area During "TET" season - Bodies of Viet Cong are strewn along the wire fence surrounding Tan Son Nhut airfield following the abortive attempt to take the installation during the night of January 31.
(Douglas Pike Photograph Collection [va000486])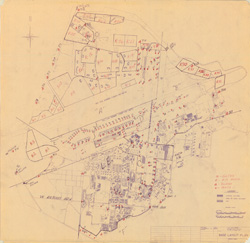 Tan Son Nhut Air Base, RVN. Aerial photograph and base layout plan.
(Farley E. Peebles Collection [va060671])
Tan Son Nhut housed many important facilities like the Headquarters to MACV, the US 7th Air Force, as well as headquarters for many South Vietnamese generals. The enemy began mortaring and rocketing the base around 3:00 a.m. After the barrage, a VC sapper team arrived outside the O-51 Gate in a taxi and blew it open. A battalion of NVA/VC soldiers waiting in the village just outside the base perimeter charged the damaged gate intent on taking the airbase and causing as much damage as possible to the airplanes parked on the runways. They also took the O-51 bunker and began firing on the base defenders, the 377th Security Police Squadron. In short order all available US and South Vietnamese Air Force personnel joined the defense including the highly trained 8th ARVN Airborne Battalion, which happened to be on the base awaiting a morning transport to Khe Sanh. The battle lasted most of the night but eventually the defenders drove the enemy out.
Around 6:00 a.m. help arrived in the form of C Troop, 3rd Squadron, 4th Cavalry, an armored cavalry unit, called out of Cu Chi to help defend Tan Son Nhut. Unfortunately, when they arrived outside of Tan Son Nhut, they found themselves in the middle of the second wave of the NVA/VC attacks, consisting of three battalions of enemy troops hidden in the villages and hamlets outside of the base. The communist forces hit the tanks with rockets, disabling the lead vehicle and pinning the column. Troop C took a horrendous beating, suffering twelve KIA and fifty WIA, but managed to hold their own and keep the second wave attack from reaching and overwhelming the base. Eventually, Troop B arrived from the Trang Bang Bridge bringing with it gunship and artillery support. They pinned down the enemy troops and drove the remaining soldiers into the Vinatexco Textile Factory nearby. The Air Force finished the job, bombing the factory and killing the NVA/VC soldiers inside.
Texas Tech University Vietnam Center Sixth Triennial Symposium: Session 4B - The Battle for Tan Son Nhut - Tet '68 [13 March 2008] (86:30 min/sec)
Session 4B: The Battle for Tan Son Nhut Moderator: James Willbanks, PhD (US Army Command and General Staff College, Fort Leavenworth, Kansas) "Orientation Tour of Tan Son Nhut Air Base" Bob Laymon, CMsgt, USAF (retired) (Independent Researcher) "The Vietcong and PAVN Historical Perspective on the Battle for Tan Son Nhut" Merle Pribbenow, CIA (retired), Independent Researcher "Combined US/RVN Defense of Tan Son Nhut" Bernie DeNisio, Col, USAF (retired), Independent Researcher